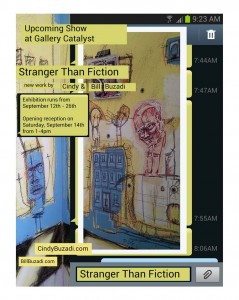 Stranger Than Fiction
an Exhibition of Recent Work by
Bill & Cindy Buzádi
Runs from
September 12th
to
September 26th
. Opening Reception on
Saturday, September 14th
from
1-4 pm
at
Gallery Catalyst
666 Queen Street West at Palmerston, Toronto, 1-647-748-1666 Website:
www.gallerycatalyst.com
Email: info@gallerycatalyst.com
Map to this event
Gallery Hours: Mon & Tues: closed, Wed-Fri: 1-7pm, Sat: 11-7, Sun: 1-5
Stranger than Fiction
, is a collaboration between visual artists
Cindy Buzádi
and
Bill Buzádi
. The exhibition is comprised of a collection of paintings, sculptures, and a twelve minute animated film titled,
Discovery
. Within the film, is the story of an organ grinder who works in a factory. The organ grinder is trying to fit into society on his own terms. The realization of the hopelessness of his situation threatens his sanity and distorts his perception of reality. The work in the exhibit depicts this urban atmosphere of disorientation and confusion in the face of an apparently meaningless world. Work in the Exhibition
Discovery
, a 12 min. animated short on display at the exhibition. Coverage of
Stranger Than Fiction
set to air on Space at 6PM EST and repeat at 11PM on Wednesday, September 18.
http://www.space.ca/InnerSPACE.aspx
Pictures of the opening at Gallery Catalyst:
https://www.facebook.com/media/set/?set=a.201673623343964.1073741849.134547853389875&type=1
Exhibition Shots
Other work available at Gallery Catalyst: Links to Gallery Catalyst CP24:
http://events.cp24.com/venue/gallery-catalyst
Blog.TO:
http://www.blogto.com/events/74625
Four Square:
https://foursquare.com/v/gallery-catalyst/517b01477043efab84f1079d
Tumblr:
http://gallerycatalyst.tumblr.com/
Twitter:
https://twitter.com/GalleryCatalyst
Toronto.ca
http://wx.toronto.ca/festevents.nsf/591df5f4e9bb95b0852572ff00502015/bcf28b4c1087346685257b590075b908?OpenDocument
Facebook:
https://www.facebook.com/pages/Gallery-Catalyst/134547853389875?fref=ts
View the Vibe:
http://viewthevibe.com/gallery-catalyst-opening-on-queen-west/
kijiji coupon:
http://www.kijijideals.ca/coupons/halton/yorkville-gallery-framing-art-picture